Aayn Ruor (character)
Talk

0
9,571pages on
this wiki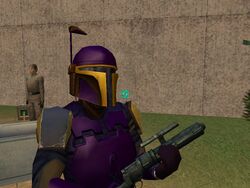 Biography
I am Aayn Ruor.
Aayn Ruor has followed the Mandalorian Way since an earily age. He can't remember not being a Mandalorian. He was taken in by Kebe Ruor. Aayn took on the name Aayn and the Clan Name Ruor. He adopted the clan's color Purple as a sign of his solidarity with his new found family.
Aayn's name means "bittersweet" in Mandoa. Aayn is a loyal, reliable, and trustworthy to those he calls friends. Aayn met up with is long time friend Oheupo and is now the Protector of Thyrsus in -TSG (Thyrsus Sun Guards), the guild Oheupo started on Naboo. He is a guildleader, general, and enforcer for -TSG.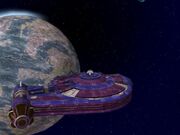 Aayn and fellow fugatives transferred from the Tarquanis server in the Great Purge on 01/13/09 to make his home on Starsider as a fugative.
Aayn is Mayor of New Thyrsus, Dantooine. All Imperials and Neutrals are welcome to come and settle down in New Thyrsus and join -TSG. Send tell or mail to Aayn for inquiries.
Aayn is always willing to help others in instances, legacy, quests. Just send tell.
Bounty Hunter Aayn is a Mandalorian Bounty Hunter and proudly dons Mandalorian armor . He serves as the Second in Command of the -TSG (PA) along side his real life friends toon Oheupo Jewao (character).
Mayor of New Thyrsus Aayn serves as major of New Thyrsus home of -TSG (PA)on Dantooine. The city is located SW of the Imperial Outpost.