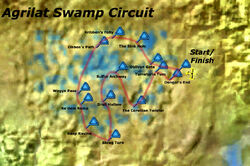 Location:
/way corellia 1680 4700 Agrilat Swamp Track Start;

Badges: If you beat the current daily record, you will receive a badge appropriate to that track.
Special Features: The Agrilat Swamp Circuit is a Swoop race track taking you into and through dangerous Agrilat Swamps on a race reminiscent of the one between Han Solo and Dengar.
Ad blocker interference detected!
Wikia is a free-to-use site that makes money from advertising. We have a modified experience for viewers using ad blockers

Wikia is not accessible if you've made further modifications. Remove the custom ad blocker rule(s) and the page will load as expected.