Information
The Alliance Needler Carbine is one of the few Carbines that use Kinetic damage, it is a mid-level carbine that can be obtained in The Clone Relics: Working For Boba Fett, it can also be crafted and looted. Although the Alliance Needler Carbine is usually below-average to average in stats, it can become a very efficant weapon when built with high quality components.
---
Statistics:
(Taken from a lower quality Alliance Needler Carbine, performance can be alot better than this)
Level Required: 30
Skill Required: Novice Carbineer
Condition: 2975
Damage:
Base Type: Kinetic
Attack Speed: 2.2
Damage: 246-493
Accuracy Bonus: 0
Wound: 1.3%
Estimated Base DPS: 164/Sec
Other Stats:
Range: 0-50m
Special Attack Cost: 92
Item Description:
An Alliance Needler Carbine
---
How to obtain:
Picture: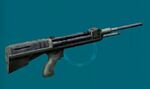 Ad blocker interference detected!
Wikia is a free-to-use site that makes money from advertising. We have a modified experience for viewers using ad blockers

Wikia is not accessible if you've made further modifications. Remove the custom ad blocker rule(s) and the page will load as expected.