Firmus Piett is a Captain in the Imperial Army who's shifted from the Emperor's Retreat as of Game Update 13 to deal with the mess at the Quarantine Zone on Dathomir.
/way dathomir -5749 -6492 Captain Firmus Piett

In the quest named
Mysterious Meeting Request
, he grants imperial players full clearance to the Quarantine Zone.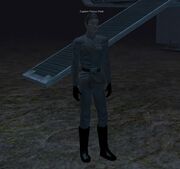 Star Wars Lore
Edit
Ad blocker interference detected!
Wikia is a free-to-use site that makes money from advertising. We have a modified experience for viewers using ad blockers

Wikia is not accessible if you've made further modifications. Remove the custom ad blocker rule(s) and the page will load as expected.