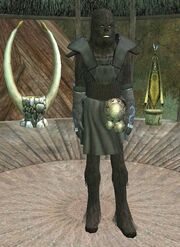 Leader of Kerritamba Village, Chief Kerritamba works endlessly to lead his people against the Sayormi clans of the Dead Forest, protecting their Kkowir Forest home against Sayormi destruction. The chief's primary concern is the restoration of the Great Tree, which has recently fallen to a disease spreading throughout the forest. Speak to him if you'd like to contribute to finding a cure.
Ad blocker interference detected!
Wikia is a free-to-use site that makes money from advertising. We have a modified experience for viewers using ad blockers

Wikia is not accessible if you've made further modifications. Remove the custom ad blocker rule(s) and the page will load as expected.