Inhabits: Mustafar
These dangerous droids have been retrofitted with weapons.
CWW Class Eradicator
Edit
A modified version of the standard lift droid, the CWW8 has had its lifts replaced by heavy blaster cannons. It has also had its armor modified to deflect all but the most accurate or powerful of blasters.
Basics
Location: 3272, -758 (roaming outside the Droid Factory)
CL: 88
Aggressive: Yes
Deathblows: Yes
Difficulty: Boss
Respawn Timer: 10 Minutes
Attacks
USD Class Pulverizer
Edit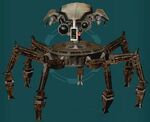 Basics
Attacks
Variation C
Edit
Basics
Attacks
Note: For details on HAM levels, armor, and defense see Creature & NPC Combat Level Chart.
Star Wars Lore
Edit
Text
Ad blocker interference detected!
Wikia is a free-to-use site that makes money from advertising. We have a modified experience for viewers using ad blockers

Wikia is not accessible if you've made further modifications. Remove the custom ad blocker rule(s) and the page will load as expected.