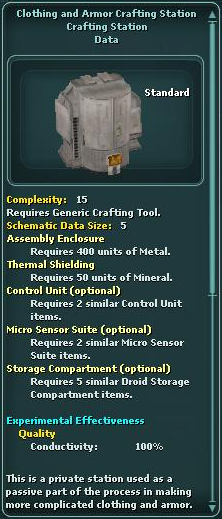 Clothing and Armor Crafting Station is a private crafting station used as a passive part of the process in making more complicated clothing and armor.
This schematic benefits from Artisan assembly and Artisan experimentation.
Schematic info
Edit
Clothing and Armor Crafting Station
Schematic information
Obtained

Level 18

Skill
Item type
Complexity

15

Crafting tool
Crafting station

Optional

Experience

900

Notes

Max rating: 45 (Starsider)

Assembly information
Resources
Optional
Experimentation

Experimental Effectiveness

Manufactory information
External links
Edit

SWGCraft
Ad blocker interference detected!
Wikia is a free-to-use site that makes money from advertising. We have a modified experience for viewers using ad blockers

Wikia is not accessible if you've made further modifications. Remove the custom ad blocker rule(s) and the page will load as expected.