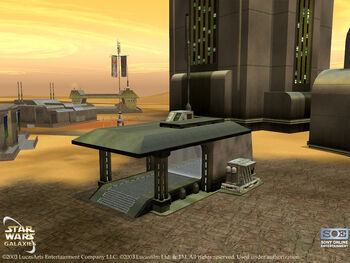 Operating costs:
Maintenance: 20,00 credits/week
Placeable on: Corellia and Talus

Skill Needed to Place: Politician >> Civic Policy II.

City Rank Required: 2

Notes: See Garage for more info.
Schematic Info
Edit

Deed for: Corellia Garage
Schematic information
Profession
Obtained

Level 34

Skill
Item type
Complexity

24

Crafting tool
Crafting station

Yes

Assembly information
Resources
Components
Identical
Experimentation

Experimental Durability

Manufactory information
Ad blocker interference detected!
Wikia is a free-to-use site that makes money from advertising. We have a modified experience for viewers using ad blockers

Wikia is not accessible if you've made further modifications. Remove the custom ad blocker rule(s) and the page will load as expected.