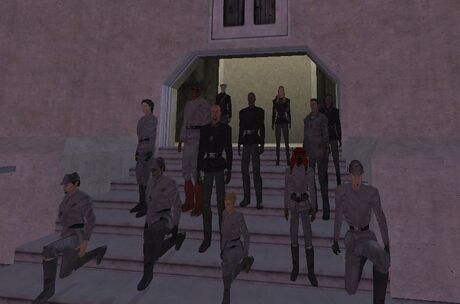 Name: Covenant of the Phoenix
Server: Bloodfin
Faction: Imperial
Location: Covenant Imperial City, Lok, Waypoint
Also: Shadow's Keep, Rori, Waypoint

The Covenant of the Phoenix (CotP 1/2007 to Present) was formerly known as the House of Blackrock (-HoB- 8/2003 to 12/2006).
Creation
Edit
The founders of the original -HoB- guild include Ceraphim, Audria, Harmthss, Therek, Shenanigans and Hithic among others. Founders of the CotP include Freakster, Scoobie, Medussa, Nabuabu, Ceraphim, Audria and Desimia, among others.
Expansion
Edit
The home of the Guild, HoB Imperial Garrison (renamed Covenant Imperial City), is located on the planet of Lok. It currently harbours about 175 citizens, all guildmembers.
Community
Edit
The Covenant is best described as a common spirit of camaraderie, enthusiasm, and devotion to a cause among the members of the Covenant. We are gathered here to continue a quest to fulfill our gaming goals in a family friendly environment catering to gamers of all styles, all genres and with every sort of gaming schedule imaginable. It is a guild environment that asks its leadership to inspire our membership, rather than require anything of them. One that chooses to promote through ability and merit, rather than statistics and elitism....and makes clear it's standard that we are not a gaggle of gamers who happen to be under one tag, but a family of friends who enjoy gaming under a banner of chivalry superseded only by the spirit by which emanates from and is forever guarded by its membership.
The current leader of the guild is Freakster, who took office following the tenure of Nabuabu, Ceraphim and Harmthss.
The current guildmembers responsible for coordinating the CotP's activities include but are not limited to the following :
Grand Moff : Freakster
Grand Admiral : Scoobie
Admiral : Ceraphim
Admiral : Audria
Admiral : Desimia
Admiral : Nabuabu
Commander : Medussa
Commander : Kamin
Commander : Faradii

Admission
Edit
Please apply for membership on our forums at http://covenantofthephoenix.com
Ad blocker interference detected!
Wikia is a free-to-use site that makes money from advertising. We have a modified experience for viewers using ad blockers

Wikia is not accessible if you've made further modifications. Remove the custom ad blocker rule(s) and the page will load as expected.