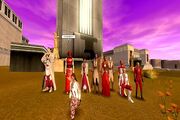 Name: Danes
Abrev: Danes
Server: Chimaera
Faction: Rebel/Neutral
Danes is a Danish Player Association (PA), and the requirement of joining is that you are from Denmark.
In soul Danes are a Rebel/Neutral guild, but Imperials are also welcome.
The guild was formed on 14 April 2005 after the guild DUF (Danish Underground Force) fell apart and some of the members decided to start a new guild. Back then, the guild was called DNG (Danish National Guards). The guild consisted in the start of the members Tessie, Spinal, Speaky, Reion, Aitaer, Vitalis, Vegetox & Snorkenulla. They settled first on Naboo, but moved fast to Rori near Narmle Starport. With time things went up and down, some left the guild, and Danes moved to Talus near Dearic Starport where the guild is today. The guild has today over 200 members, and has lately hold its 1 year anniversary.
Ad blocker interference detected!
Wikia is a free-to-use site that makes money from advertising. We have a modified experience for viewers using ad blockers

Wikia is not accessible if you've made further modifications. Remove the custom ad blocker rule(s) and the page will load as expected.