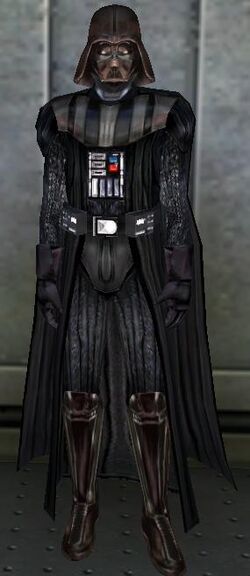 Darth Vader is located in the Emperor's Retreat on Naboo, close to Moenia. The foremost agent of the Emperor, Lord Vader is in charge of hunting down and destroying Rebels wherever they may be.
Vader is involved in the Imperial Themepark quest at the Emperor's Retreat on Naboo, where he may be found at any time. He may be visited only after completing missions for all the other NPCs in the themepark, including the Emperor. Darth Vader is the final NPC in this quest, and awards the Imperial Badge of Merit for completion of the themepark.
Lord Vader is known to appear in Bestine, Theed, and Coronet unannounced (when the Imperial Faction controls the planet) in order to give quests to Imperial-aligned players. When this happens, his Lambda-class shuttle lands in the plaza in front of the starport, and Vader appears with an entire squad of Stormtroopers in tow. If you disturb him (ie: slap, puke, poke, hug, etc.), Vader will use force choke to incapacitate you. These quests are Imperial Combatant: Operation Molecular Clamp, Imperial Combatant: Operation Sieve, Imperial Special Forces: Operation Green Light, and Imperial Special Forces: Operation Take Down.
Lord Vader also appears in the heroic instance: Battle of Echo Base, where he is attackable. He is a CL 300 Boss and is located in the main hangar where the snowspeeders are normally at. He is impossible to kill as his HP bar does not drop when hit, regardless of the amount of damage.
External links
Edit
Ad blocker interference detected!
Wikia is a free-to-use site that makes money from advertising. We have a modified experience for viewers using ad blockers

Wikia is not accessible if you've made further modifications. Remove the custom ad blocker rule(s) and the page will load as expected.