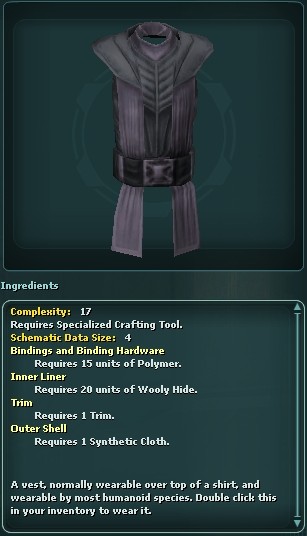 Decorative Vest
Schematic information
Profession

Trader (Domestic Goods)

Skill

Domestic Essentials VI

Item type

Vest

Complexity

17

Crafting tool

Specialized Crafting Tool

Crafting station

Armor and Clothing Crafting Station

Assembly information
Resources

20 units Wooly Hide, 15 units Polymer

Components

1 Synthetic Cloth, 1 Trim

Experimentation

None

Manufactory information
Ad blocker interference detected!
Wikia is a free-to-use site that makes money from advertising. We have a modified experience for viewers using ad blockers

Wikia is not accessible if you've made further modifications. Remove the custom ad blocker rule(s) and the page will load as expected.