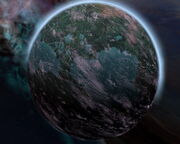 Endor System is a space sector that the Galactic Empire has restricted to Imperial traffic, approved civilian material suppliers and approved civilian scientists. All other traffic is prohibited from the area. Imperials may also travel to Deep Space and Kessel System from the Imperial Claw Station. Hostile targets in this area are Tier 4.
Ad blocker interference detected!
Wikia is a free-to-use site that makes money from advertising. We have a modified experience for viewers using ad blockers

Wikia is not accessible if you've made further modifications. Remove the custom ad blocker rule(s) and the page will load as expected.