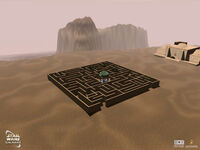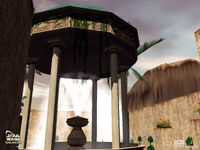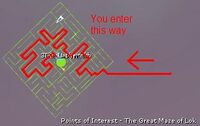 The maze was built long ago by a visiting noble on a hunting expedition.
The Great Maze of Lok was designed to test adventurer's skill and perserverence. However it's not that big, and just turn on the map and you'll find the center with ease. See for yourself what awaits you in the center.
/way Lock 3820 -505


Tips:
Location can be found in your POIs or the waypoint above.
At the center of the maze you'll find the Forward Commander Knuckler for the Rare Melee Weapons Mark II collection
The center of the maze is also a leg of the Lok Marathon Race
Ad blocker interference detected!
Wikia is a free-to-use site that makes money from advertising. We have a modified experience for viewers using ad blockers

Wikia is not accessible if you've made further modifications. Remove the custom ad blocker rule(s) and the page will load as expected.