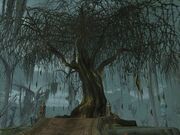 The Great Tree (Spirit of Nyenthi'Oris) is sacred to the Wookiee clans of Kashyyyk and tended to by the people of Kerritamba Village. Unfortunately, the tree has been poisoned by the Sayormi plague that created the Dead Forest of Kkowir. Chief Kerritamba has an idea for a cure, but needs help in acquiring the ingredients needed to save the Great Tree. The tree is located in the Mysess Glade at (-24 138).
Ad blocker interference detected!
Wikia is a free-to-use site that makes money from advertising. We have a modified experience for viewers using ad blockers

Wikia is not accessible if you've made further modifications. Remove the custom ad blocker rule(s) and the page will load as expected.