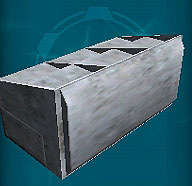 A plant named for its drab color when dried, Grey Gabaki gives off a light and relaxing smoke when burned. It is commonly used in cantinas, but some merchants also burn it to make store fronts a more relaxing environment for customers.
Schematic Obtained In: No longer obtainable through character evolution, rare datapad factory runs can still be bought from other players.
Resources Required:
Complexity: 10
Requires: A Factory
Effect:
Duration: 5 minutes
Star Wars Lore
Edit
Ad blocker interference detected!
Wikia is a free-to-use site that makes money from advertising. We have a modified experience for viewers using ad blockers

Wikia is not accessible if you've made further modifications. Remove the custom ad blocker rule(s) and the page will load as expected.