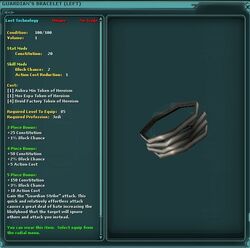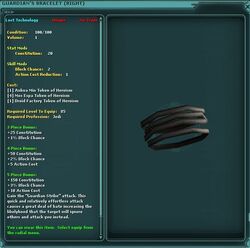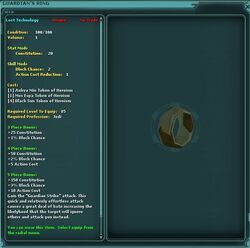 Guardian's set is a jedi jewelry set consisting of a necklace, two bracelets, and two rings that provides additional bonuses when worn together. This set may be purchased using Tokens of Heroism from Dageerin (/way 5255 -4149) in Aurilia on Dathomir.
Stat mods
Skill mods
Glancing blow increase: 1
Action cost reduction: 1
Required level to equip: 85
Required profession: Jedi
3-piece bonus
+25 constitution
+1% critical hit reduction
4-piece bonus
+50 constitution
+3% critical hit reduction
+5% action cost Reduction
5-piece bonus
+150 constitution
+5% critical hit reduction
+10 action cost
Gain the "Guardian Strike" attack. This quick and relatively effortless attack causes a great deal of hate increasing the likelihood that the target will ignore others and attack you instead.
Full Set Statistics
+2000 health
+500 action
15% action cost reduction
5% critical hit reduction
5% glancing blow increase
Guardian Strike attack

Set costs
Edit
Guardian's Necklace
Guardian's Bracelet (left)
Guardian's Bracelet (right)
Guardian's Band
Guardian's Ring
Full Set
Ad blocker interference detected!
Wikia is a free-to-use site that makes money from advertising. We have a modified experience for viewers using ad blockers

Wikia is not accessible if you've made further modifications. Remove the custom ad blocker rule(s) and the page will load as expected.