Ad blocker interference detected!
Wikia is a free-to-use site that makes money from advertising. We have a modified experience for viewers using ad blockers

Wikia is not accessible if you've made further modifications. Remove the custom ad blocker rule(s) and the page will load as expected.
Inhabits: Corellia

These small frog-like creatures live on Corellia. These frogs are easilly recognized by their three curled wiskers. Gubburs are not much of a threat, but will be an easier kill than a
Durni
.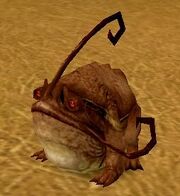 Statistics
Edit
Basics

Natural Level: 2
Aggressive: No
Stalker: No
Deathblows: No
Social: No
Tamable: Yes
Mountable: No
Difficulty: Normal

Attacks

Resources / Loot

Bone type: Animal
Hide type: Leathery
Meat type: Carnivore
Milk type: -
Loot: -
Bloated Gubber
Edit
Basics

Natural Level: 2
Aggressive: No
Stalker: No
Deathblows: No
Social: No
Tamable: No
Mountable: No
Difficulty: Normal

Attacks

Resources / Loot

Bone type: Animal
Hide type: Leathery
Meat type: Carnivore
Milk type: -
Loot: -
Giant Gubbur
Edit
Basics

Natural Level: 5
Aggressive: Yes
Stalker: No
Deathblows: No
Social: Yes
Tamable: No
Mountable: No
Difficulty: Normal

Attacks

Resources / Loot

Bone type: Animal
Hide type: Leathery
Meat type: Carnivore
Milk type: -
Loot: -
Note: For details on HAM levels, armor, and defense see Creature & NPC Combat Level Chart