Recommended combat levels: 50 and higher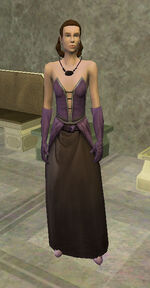 Haleen Snowline, Minister of Protocol for Hagrin Zeed the Prime Minister of the Talus government, can be found in the Dearic Capitol.
/way talus 683 -3152 Haleen Snowline

She starts a small questline taking place in a complex political conflict.
The "Contribution"
Edit
Reward: 25 Credits
Quest Level: 4
When you accept the mission, a Liberation Contribution is placed in your inventory.
You're asked to meet representatives of the Talus and Tralus Liberation Party (TTLP) in the wilderness, 1 km outside the city, for a delivery.
Get rid of a CL thug at the given waypoint and talk to the Talus Liberation Party patriot.
Retrieve the Stolen Secrets
Edit
Reward: 40 Credits
Quest Level: 47
Haleen now needs you to recover Talusian state secrets from Liberation Party terrorists. Eliminating the insurgents in the process seems to be unofficially requested. When you arrive, you're ambushed by a CL46 Talus Liberation Party reactionist. Take him down then kill the CL47 Talus Liberation Party activist who's waiting behind. Return to Haleen for your reward.
She's now granting you clearance to meet Hagrin Zeed the Prime Minister.
Star Wars Lore
Edit
Ad blocker interference detected!
Wikia is a free-to-use site that makes money from advertising. We have a modified experience for viewers using ad blockers

Wikia is not accessible if you've made further modifications. Remove the custom ad blocker rule(s) and the page will load as expected.