Hotfix 16.10
Talk

0
9,571pages on
this wiki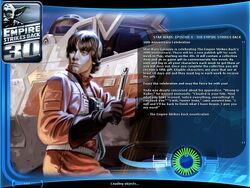 The Empire Strikes Back 30th Anniversary Celebration
Star Wars Galaxies is celebrating The Empire Strikes Back's 30th anniversary. Each week in May, starting on the 4th, eligible characters will receive a new publish gift. It will contain a collection item and an in-game gift to commemorate the event. Be sure and log in all your characters each week to get them or you will miss out. Once you complete the collection you will receive a fifth gift. Eligible characters are ones that are at least 10 days old (i.e. characters that normally get a publish gift when we offer a new one) and they must log in each week to receive the gift. In addition, there will be new rewards as loot drops in Hoth and for purchase using heroic tokens.
ESB 30 - Week 4
Log in to receive your Week 4 collection item and gift. They will be available through May 31st.
The Heroic Token Vendor in Aurillia now sells the Jabba's Sail Barge structure deed.
Beast Master
Improved the drop rate of the Vorpal Durni DNA.
The Undead Rancor has a new present for people who come to visit.
Jedi
The Evasion value granted by Premonition and the Meditation buff now counts towards the percentage evaded value at a 1 to 1 ratio.
Misc
The character's total accumulated play time is now displayed on the Personal tab of the Character Sheet.
The Rebel GCW Comm link will now longer spawn 'Aged Lantern Birds' instead of rebel troops when the player is a Major.
BBP CUSTOMER NOTICE: The firm responsible for monitoring incubator activity for BBP wishes to apologize for the lack of concrete data concerning the unstable DNA situation. BBP wishes to make it known that those responsible have been terminated. BBP announcements have thus been reconfigured at great expense and at the last minute. Unstable DNA variations have completely usurped (and have therefore become) the native forms of all Crystal snakes, Spined snakes, and Fanned Rawl. These creatures are no longer resistant to efforts to obtain viable DNA samples. :END NOTICE