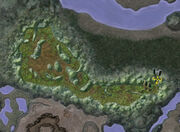 Gaining Access
Edit
To gain access to Hracca Glade you need to complete the Find Brody Johnson quests and then complete the quests he gives you.
Creatures
Edit
Noxious versions of most animals in Etyyy - Hunting Grounds that have around 7k health and Chiss Poacher Prey Hunters that each have 17k health, all mobs are between levels 70 to 80.
Once all the Chiss Poachers have been killed, the Kkorrwrot will spawn, which you must take down to complete the quest.
Tip - to help kill the Chiss the creatures in the area can agro the Chiss but also you...
Instance Specifics
Edit
There is a time limit of 30 minutes to do this quest.
Ad blocker interference detected!
Wikia is a free-to-use site that makes money from advertising. We have a modified experience for viewers using ad blockers

Wikia is not accessible if you've made further modifications. Remove the custom ad blocker rule(s) and the page will load as expected.