There are two kinds of Jedi Relic.
Collection Item
Edit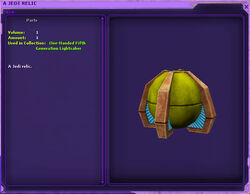 This
yellow colored
collection item can be looted (or stolen by spies) from various force user NPCs around the galaxy, mainly from Dathomir Nightsisters.
A Jedi needs to combine 10 of these relics to complete the One-handed Fifth Generation Lightsaber collection, required itself for the Master Jedi Cloak collection.
A Dark Adept - Dantooine (13 April 2011)
Decorative Item
Edit
The
blue version
can be created with the
Chu-Gon Dar Cube
or looted through the
Rare Loot System
.
Ad blocker interference detected!
Wikia is a free-to-use site that makes money from advertising. We have a modified experience for viewers using ad blockers

Wikia is not accessible if you've made further modifications. Remove the custom ad blocker rule(s) and the page will load as expected.