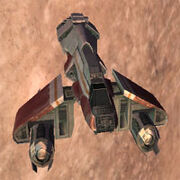 Schematic Obtained In: Shipwright >> Spaceframe Engineering II: Standard Assault Ships
Skill Needed to Use: Freelance Pilot >> Advanced Fighters
Item Type: Ship Components >> Ship Chassis
Resources Required:
9000 units of Steel
3000 units of Steel
3000 units of Low-Grade Ore
3000 units of Low-Grade Ore
3000 units of Inert Petrochemical
3000 units of Aluminum
3000 units of Iron
3000 units of Fiberplast
Total: 12000 Steel, 6000 Low-Grade Ore, 3000 Inert Petrochemical, 3000 Aluminum, 3000 Iron, 3000 Fiberplast

Complexity: 31
Requires: Specialzed Starship Crafting Tool and Starship Crafting Station
XP Gained: XX Shipwright XP (normal) / YY Shipwright XP (practice)
Relevent Experimental Properties:
Experimental Hitpoints:

Maximum Hitpoints:

Heat Resistance: 25%
Overall Quality: 25%
Shock Resistance: 25%
Unit Toughness: 25%

Experimental Mass:

Maximum Mass:

Malleability: 25%
Overall Quality: 25%
Shock Resistance: 25%
Unit Toughness: 25%

Notes:
In game schematic description:
TransGalMeg "Kihraxz" (ki-Rax) Assault Fighter
The "Kihraxz" Assault Fighter is able to quickly close with and surgically attack its target before they are aware. TransGalMeg's design emphasis for the ship was on speed, and as a result defenses are at a premium and weapons loadout is reduced. This might be seen as a dire limitation, but the maneuverablity of the ship is such that it can normally avoid attacks that would not be able to withstand. Although a cheaper ship, a number of pilots continue to fly the "Kihraxz" even though they could afford something larger, simply because the ship's performance suits their personal combat style.
Ad blocker interference detected!
Wikia is a free-to-use site that makes money from advertising. We have a modified experience for viewers using ad blockers

Wikia is not accessible if you've made further modifications. Remove the custom ad blocker rule(s) and the page will load as expected.