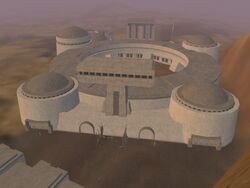 Kor Vella is a widespread city in north-western Corellia that is strewn out among many hills and valleys. The local starport is removed from the bulk of the city and is protected by a small Imperial base to its north. Like other Corellian cities, Kor Vella struggles to distinguish itself from under the shadow of Coronet.
Kor Vella once served as a Imperial crackdown city, but that functionality was revamped with Publish 14's GCW changes.
City Services
Edit
Facilities
Edit
Banking Terminal (-3126, 2790), (-3268, 3109)
Bazaar Terminal (-3150, 2782), (-3119, 2970)
Cantina (-3464, 3041)
Cloning Facility (-3544, 3219)
Garage (-3184, 2818)
Guild hall (-3434, 3197), (-3411, 3365), (-3680, 3081)
Hotel (-3268, 3109)
Medical Center (-3795, 3155)
Mission Terminal (-3268, 3109)
Shuttleport (-3777, 3240)
Starport (-3154, 2872)
Trainers
Edit
Faction Locations
Edit
Quest NPCs
Edit
/way corellia -3233 3084 Chertyl Ruluwoor;
/way corellia -3414 3336 Denell Kel'vannon;
/way corellia -3335 2921 Gilken Budz;
/way corellia -3463 3051 Lasha Bindari;
/way corellia -3456 3088 Skinkner;

Star Wars Lore
Edit
Ad blocker interference detected!
Wikia is a free-to-use site that makes money from advertising. We have a modified experience for viewers using ad blockers

Wikia is not accessible if you've made further modifications. Remove the custom ad blocker rule(s) and the page will load as expected.