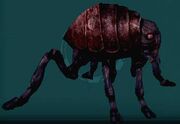 Being native to Mustafar, the Lava Flea has developed a resistance to the lava and heat of the planet. Due to this resistance, the Lava Flea makes an ideal mount when traversing the planet. Even though many tribes of the planet raise these creatures as mounts, you can still find many of these beasts in the wild.
Note: As with all MOBs, Loot drops are random, and not always guaranteed.
Lava Flea
Edit
Lava Flea Guard
Edit
Lava Flea Hatchling
Edit
Lava Flea Juvenile
Edit
Lava Flee Mount
Edit
This mount is a reward for purchasing Trials of Obi-Wan.
Basics

Attacks

Resources / Loot

Bone type: N/A
Hide type: N/A
Meat type: N/A
Loot: N/A
Lava Flea Queen
Edit
Lava Strider
Edit
Smoldering Lava Flea
Edit
Starving Lava Flea
Edit
Note: For details on HAM levels, armor, and defense see Creature & NPC Combat Level Chart.
Ad blocker interference detected!
Wikia is a free-to-use site that makes money from advertising. We have a modified experience for viewers using ad blockers

Wikia is not accessible if you've made further modifications. Remove the custom ad blocker rule(s) and the page will load as expected.