Mos Espa
Talk

0
9,571pages on
this wiki
Mos Espa is the largest city on Tatooine. The city expands in the northwest of the planet with all necessary facilities. Though not nearly as popular as Mos Eisley, it's a key center for many quests and activities. Watto the Toydarian scrapyard master lives here and is an important NPC in the Legacy quest.
As with most other Tatooine cities , Mos Espa was a failed mining colony. The Hutts took over and turned it into a dangerous spaceport. The population at the time was full of slaves and slavers. The city was visited by Queen Amidala and a few Jedi who then rescued a young boy named Anakin Skywalker, the soon-to-be Darth Vader. The rise of the Empire led to podracing becoming illegal, making the city lose its reputation, and the Hutts clear out of the city for more profitable means. The Tuskens took their oppurtunity and attempted to take over the city, but were driven out by smugglers and pilots. Ever since the Hutts have left the city, Mos Espa has lost its criminal reputation and is now regarded as a law-abiding city. Many travelers come here as a rest stop before setting off for the Dune Sea.
City Services
Edit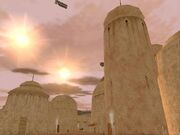 Facilities
Edit
Remove facilities not located in city.
Banking Terminal (XXXX, YYYY), (XXXX, YYYY)
Bazaar Terminal (XXXX, YYYY), (XXXX, YYYY)
Capitol (XXXX, YYYY)
Cantina /way -3030 2216
Cloning Facility (XXXX, YYYY)
Garage (XXXX, YYYY)
Guild hall (XXXX, YYYY), (XXXX, YYYY), (XXXX, YYYY)
Hotel (XXXX, YYYY)
Salon (XXXX, YYYY)
Medical Center (XXXX, YYYY)
Mission Terminal (XXXX, YYYY)
Shuttleport A (XXXX, YYYY)
Shuttleport B (XXXX, YYYY)
Starport (XXXX, YYYY)
Theater (XXXX, YYYY)
Beast Trainer (-2980, 2534)
Chassis Dealer (XXXX, YYYY)
Faction Locations
Edit
Remove items not found in city.
Quests and Important NPCs in Mos Eisley
Edit
Star Wars Lore
Edit
This was the home town of Anakin Skywalker who would eventually become Darth Vader. It was here in his hovel's backyard, he would construct his podracer. The Mos Espa podraces occured here, but because of Imperial laws, is now highly illegal just like swoop bike racing.