Nightsister Melee Armguard
Talk

5
9,571pages on
this wiki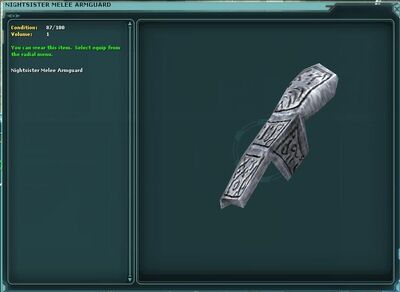 This armor dropped from Axkva Min at the Nightsister Stronghold on Dathomir at one time. It was not intended to be put in Star Wars Galaxies, and could be looted from Axkva Min by error, but was soon removed from the loot tables in Publish 4 in the early months of Star Wars Galaxies.
The armor is wearable only by females.
This item is now called a "Nightsister Melee Armguard" or commonly Nightsister Armband, and is considered as a piece of clothing and no more as an armor piece.
This item has now been added to the RLS (Rare Loot System) and looted from a Legendary Loot Box.