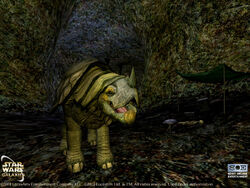 Excerpt from biologist article on the Holonet:
"Many years ago a female torton, her growth naturally stunted from birth, found her way into a cave not far to the Southeast of Narmle (-1815, -4530). She found the cave an environment suitable to her needs: the passages were easy to defend, the proximity to the swamps allowed bountiful hunting, and the interior depths of the cave were a perfect place to incubate eggs. Due to the lengthy lifespan of the species many people say that the matriarch is still there, and since the many years have past, an impressive bale of pygmy tortons must inhabit the caves by now. Biologists, take caution when conducting studies for this interesting species."
Location: -1813, -4532 on Rori

Type: static spawn of pygmy torton creatures
Juvenile Pygmy Torton (CL47-59)
Adolescent Pygmy Torton (CL46-53)
Adult Pygmy Torton (CL48-60)
Pygmy Torton Protector (CL46-49)
Mature Pygmy Torton (CL49)
Torton Pygmy Matriarch (CL50)
Note: The Darstai'is Sickle can be found here which is part of the Rare Melee Weapons Mark II Collection
Ad blocker interference detected!
Wikia is a free-to-use site that makes money from advertising. We have a modified experience for viewers using ad blockers

Wikia is not accessible if you've made further modifications. Remove the custom ad blocker rule(s) and the page will load as expected.