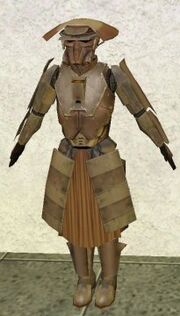 R.I.S. armor (Reinforced Insulated Sheath) is a type of battle armor. It can only be crafted by munitions traders who have completed the master armorsmith quests from a hermit, Mol Ni'mai, located (/wp -6805 6022) in the mountains near the Abandoned Rebel Base on Dantooine. The difficulty in achieving this quest and the required looted resources adds to the rarity of this armor.
Schematic info
Edit
Ad blocker interference detected!
Wikia is a free-to-use site that makes money from advertising. We have a modified experience for viewers using ad blockers

Wikia is not accessible if you've made further modifications. Remove the custom ad blocker rule(s) and the page will load as expected.