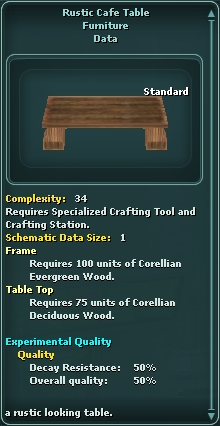 Rustic Cafe Table is a piece of rustic furniture. Available in Game Update 9.
Schematic info
Edit
Rustic Cafe Table
Schematic information
Profession
Obtained

Level 86

Skill
Item type
Complexity

34

Crafting tool
Crafting station
Experience

?

Assembly information
Resources
Experimentation

Experimental Quality

Quality

Decay Resistance: 50%
Overall quality: 50%

Manufactory information
Color palette
Edit
No custom color palette available.
External links
Edit
No SWGCraft ID specified. Please edit this article and add it.

SWGCraft
Ad blocker interference detected!
Wikia is a free-to-use site that makes money from advertising. We have a modified experience for viewers using ad blockers

Wikia is not accessible if you've made further modifications. Remove the custom ad blocker rule(s) and the page will load as expected.