The Sniper Squad (SSS)
Edit
The Sniper Squad (SSS) is a player association (guild) on the Bria server.
The Sniper Squad (SSS) is a small group (hence; squad) of elite mercenaries, ranging from Bounty Hunters to Commandos and Medics. They have not yet expanded out to other classes. The Sniper Squad Guild Hall is located southwest of Coronet, on Corellia. Just outside the Hall, there is a small cluster of the Guild members houses.
Guild Hall Location: Southeast of Coronet, on Corellia
Guild Hall Founder: Optaquon
Guild Leader: Zaggith
Current Members: 5
Guild Alliance: Non-Factioned, but is said to support Imperial ambitions more frequently than others.
Members - Positions
Edit
Igowir Dole - Commando, Ground Combat Expert, Basic Pilot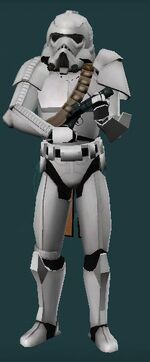 Ships Currently in Fleet: 7

Most Notable Ships and Pilots:
The Sniper Squad is controlled and governed by its leader, Zaggith Oskovo. The Sniper Squad was established countless years ago by Zaggith, but was not formally recognized until recent. Optaquon Okrovos, the guild's architect, established the Sniper Squad Guild Hall, located southeast of Coronet, on Corellia.
For the most part, The Sniper Squad has been a very solitary guild, not accepting members just for the sake of having a large guild. They are a group of curteous, intelligent, but deadly players, who also are willing to help others with missions that are too difficult for one man, or even their existing group. The Sniper Squad also doubles as a mercenary group. If you're in need of a wingman, escort, or foot-soldier, they'll gladly take up that position. If the possible rewards gained from assistance do not seem worth them taking part in, a small price will most likely persuade them into helping. The Sniper Squad is a very friendly bunch, don't be shy to ask for help.
Ad blocker interference detected!
Wikia is a free-to-use site that makes money from advertising. We have a modified experience for viewers using ad blockers

Wikia is not accessible if you've made further modifications. Remove the custom ad blocker rule(s) and the page will load as expected.