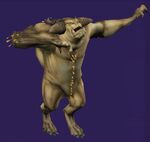 Scratch is a giant minstynger living in The Shadowed Lands of the Rryatt Trail on Kashyyyk. Killing him is part of the access quest to the Avatar Platform quest.
Statistics
Edit
Basics

Natural Level: 82
HAM: 43672
Aggressive: Yes
Stalker: No
Deathblows: Yes
Social: No
Tamable: No
Mountable: No
Difficulty: Boss

Attacks

Resources / Loot

Bone type: n/a
Hide type: n/a
Meat type: n/a
Milk type: n/a
Loot: random
Ad blocker interference detected!
Wikia is a free-to-use site that makes money from advertising. We have a modified experience for viewers using ad blockers

Wikia is not accessible if you've made further modifications. Remove the custom ad blocker rule(s) and the page will load as expected.