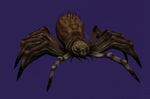 The ShadowWeave Caverns, or more commonly called the Webweaver Caverns, sits beneath the mighty Nawataa Waterfall enticing brave souls to enter. Beware of the Webweaver spiders, as they have a vicious, hungry bite.
Game Information
Edit
Home of the Outcasts of Kkowir Forest and the vile Webweavers and Mother Ves'ad. These caverns play a major role in the Arena Challenge section of the Kerritamba Village series, leading to the quests related to the Outcasts of the caverns.
Important inhabitants include:
Ad blocker interference detected!
Wikia is a free-to-use site that makes money from advertising. We have a modified experience for viewers using ad blockers

Wikia is not accessible if you've made further modifications. Remove the custom ad blocker rule(s) and the page will load as expected.