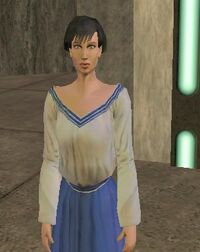 Level: 37
Reward: none
Description
Edit
Once you finish your quests for Talte, you are contacted by Madison Silene, a friend of Angela, the woman you helped in Doaba Guerfel. She knows you are willing to help people in need, and begs you to contact her in Tyrena. Travel to (-5131 -2632) and speak with her to update the quest.
Next: Talk To Bandor
Ad blocker interference detected!
Wikia is a free-to-use site that makes money from advertising. We have a modified experience for viewers using ad blockers

Wikia is not accessible if you've made further modifications. Remove the custom ad blocker rule(s) and the page will load as expected.