Skills
Talk

0
9,571pages on
this wiki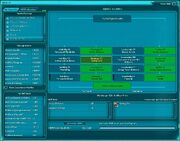 This window displays all skills available in the game from normal professions. If you have unlocked any Force Sensative or Jedi professions, they will be listed on this page, in the left column.
If youi click on "My Skills," the column on tbe left will show all professions you currently have skill in. When you click on one, the skill sheet will show that profession's tree, with each skill in green representing the skills you have acquired.
At the bottom is a bar and numbers representing your current skill points. These are unused points that you can spend on learning new skill boxes. In addition to the required number of skill point available, you must have enough of the specific type of experience in order to learn a new skill. To find out the amount and what type, simply click on the skill box. The information will be shown at the bottom of the window, below the skill points bar.
Warning: This is outdated!
Edit
As of the NGE, this is obsolete. We now have the Expertise System, which is accessed by pressing the U button. You use Expertise Points to access new features in the Expertise System. 5 Expertise Points are granted at level 10, and 1 point every other level after that. Levels 1 - 9 do not give Expertise Points.