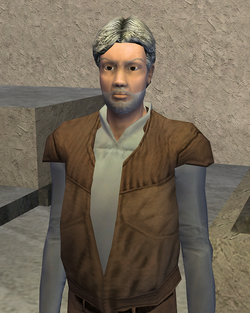 Thracken Sal Solo can be found in a Coronet guild hall, on Corellia.
/way corellia -275 -4720 Thracken Sal Solo

Game Info
Edit
He hands out missions relating to corellian affairs such as the Drall and Selonians:
Kill a Selonian terrorist
Talk with Jermo Tharrn after taking out the 2 selonian sentinels
Kill Tormyll Fassoola and bring back his blackmail disk, the Diktat's Death Squad
Kill the Selonian Leader and his guards
Good. Go find them and don't leave any of those vermin alive. I am counting on you.

—Thracken Sal Solo,

Star Wars Galaxies
Star Wars Lore
Edit
Ad blocker interference detected!
Wikia is a free-to-use site that makes money from advertising. We have a modified experience for viewers using ad blockers

Wikia is not accessible if you've made further modifications. Remove the custom ad blocker rule(s) and the page will load as expected.