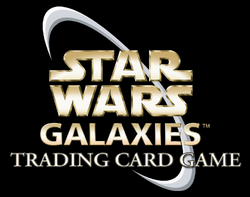 The Star Wars Galaxies Trading Card Game, Champions of the Force is an online-only trading card game available for all current and former subscribers of Star Wars Galaxies to play.
Each month subscribers will recieve five booster packs with 15 cards each. These packs are No Trade and are thus for the player alone. Previously, these booster packs would be for the current expansion. As of March 16, 2010 (and until March 16, 2011) players will now recieve five "Choose a Pack" packs and select the expansion they want their packs to be. The selected packs can be all the same or mixed.
Expansions
Edit
Other Important links
Edit
Ad blocker interference detected!
Wikia is a free-to-use site that makes money from advertising. We have a modified experience for viewers using ad blockers

Wikia is not accessible if you've made further modifications. Remove the custom ad blocker rule(s) and the page will load as expected.