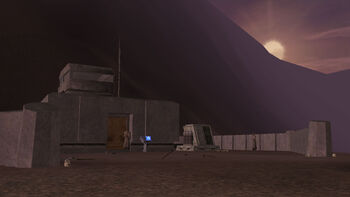 Once an Imperial Bunker, now nothing but debris and the sound of long dead Stormtroopers on Patrol. Or is it? Go inside if you dare...if you want to be Tusken Bait that is.
/way tatooine -1490 -210 Tusken Bunker;

Combat Level: 30
Inhabitants:
Respawn Timer: 6 minutes
Ad blocker interference detected!
Wikia is a free-to-use site that makes money from advertising. We have a modified experience for viewers using ad blockers

Wikia is not accessible if you've made further modifications. Remove the custom ad blocker rule(s) and the page will load as expected.