PierryLop/Pierry Lop
Talk

0
9,571pages on
this wiki
Pierry Lop

Pierry during the Galactic Civil War
Homeworld
Tatooine
Born
20 BBY
Affiliations
Galactic Republic, Galactic Empire, Imperial Remnant
Rank
Lieutenant Colonel
Species
Human
Profession
Medic
Server
Eclipse
Died
10 ABY, Balmorra
Early Life
Edit
Borned on "the rock planet Tatooine" Pierry loved his homeworld as everyone usually couldn't stand such planet.
After few years as a teenager he wanted to become one who would aid the others in the nearest city Mos Eisley: Doctor. Pierry had no experience with war or what was actually going on while he was living on Tatooine. One day when he was 18 years old he went to Bestine where near the city he found a few wounded clone troopers hiding from Valarian pirates that were trying to kill them and steal their equipment.
Clone troopers brought Pierry up to speed in no time as they needed medical attention ASAP. Bestine was full of pirates those years so Pierry knew well he couldn't take them there. Pierry decided to help them himself at his home. He didn't expect to save them as he didn't have much experience that time. Although surprised Pierry pointed he actually helped them a lot.
The clone troopers were glad he saved their lives and asked him if he'd like to join the Galactic Republic as they are recruiting medics and armor crafters at that time. Pierry agreed and was taken to Coruscant where he passed the trials and became Rookie Medic on battlefield...
Battle of Geonosis
Edit
"
Hey...What's your name pal? First day on a battlefield?"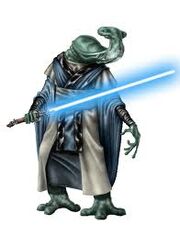 -Padawan Torrinick
Indeed, it was Pierry's first day on a battlefield. And it was the famous Battle of Geonosis. As the shuttle were getting closer to the battlefield Pierry talked with the mysterious Padawan and at last he said his name was Torrinick. Pierry was assigned to Zeta Squad command post where he aided the wounded. It was not that bad as long as the wounds weren't too difficult to fix. Although a few times Pierry had to pick up a blaster and destroy few droids that were trying to get to the command post. He didn't see one droideka though and that was a big mistake. The droideka got in the outpost without problems, other guards were dealing with droids on the other side. Droideka got into the laboratory shielded and fired quickly at wounded and Pierry.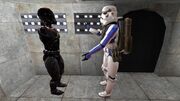 Pierry got hit in leg and laser just missed his face. He hid behind a table and was trying to keep alive. Of course he called the guards to help him when he suddenly saw a electro-grenade, Pierry throwed it after the droideka and disabled its shield. Pierry fired at the droideka and destroyed it completely. Unable to move he just saw guards entering the room and looking around for survivors. Pierry was then moved to medical bay for the rest of the battle. After the battle ended he got promotion to Adept Medic and never saw Torrinick again...
To be continued....