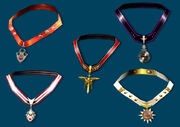 With the Rage of the Wookiees expansion came the ability to earn and wear special medals granted by various factions through the Star Wars universe. These medals are all given to reward significant contributions to a cause, and wearing them is a sign of prestige.
Medals will be rewarded at some point while taking part in the following activities:
Ace Pilots who reached their master rank prior to Rage of the Wookiees can obtain their medals by speaking with their master pilot trainer.
Ad blocker interference detected!
Wikia is a free-to-use site that makes money from advertising. We have a modified experience for viewers using ad blockers

Wikia is not accessible if you've made further modifications. Remove the custom ad blocker rule(s) and the page will load as expected.