X-31 Landspeeder
Talk

0
9,571pages on
this wiki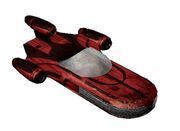 The X-31 Landspeeder is a municipal version of the X-34 Landspeeder provided to planetary governments in bulk by the Sorosuub Corporation.
First produced prior to the Clone Wars, it was still used after the Battle of Yavin.
During the Galactic Civil War, these vehicles were given to municipal employees, maintenance workers and often provided free of charge to farmers, pioneers and other citizens to help them get established.
Performance
Edit
How to Obtain
Edit
The X-31 Landspeeder is not craftable and was only available as a new player reward. As of January 2005, all new players get this vehicle for free. It comes as a deed in your inventory. Since the Revamp of the New player tutorial, this speeder is no longer obtainable.
Source: Corellia Times Consumer Reports: Vehicles - Star Wars Galaxies website