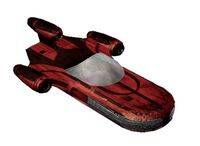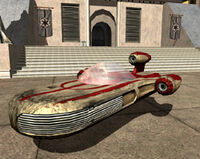 The X-34 landspeeder is an older model craft also manufactured by the Sorosuub Corporation. It isn't the fastest speeder in the galaxy, but is still a reliable vehicle for the cost. Only the X-31 Landspeeder is slower. It is usually the cheapest of the vehicles because of the smaller number of resources required to craft one, making it an ideal vehicle for beginning players.
Performance
Edit
Source: Corellia Times Consumer Reports: Vehicles - Star Wars Galaxies website
Ad blocker interference detected!
Wikia is a free-to-use site that makes money from advertising. We have a modified experience for viewers using ad blockers

Wikia is not accessible if you've made further modifications. Remove the custom ad blocker rule(s) and the page will load as expected.